We have returned from the Emerald Isle! Why are holidays so stupidly short (and so tiring for me)? After a bit of a dodgy start to the trip in Cork - I was dizzy and headachey so a city was not the place to be - we did have a lovely time. A few shocks were:
total lack of decent road signange and practically no 'village signs' (and what signs there were were for places that weren't on the map)
stupidly high house prices for the size of population (3.5million) and average salary (so dream of selling up and moving to live and being self sufficient there is out of the question)
amazing number of new houses (mainly dormer bunaglows?) dotted around the otherwise pristine countryside
knackeredness of Cork city itself (obviously had not been polished to a gleaming shine for the capital of culture in 2005).
Anyway now for some pics and commentary. After the semi-trauma of Cork we headed east onto 'great island' to visit the town of Cobh/Queenstown/Cove (depending on what you're reading). The old rail station has a very good museum telling the 'Queenstown Story' as this is the port form which around 3.5million emigrants left island for the Americas.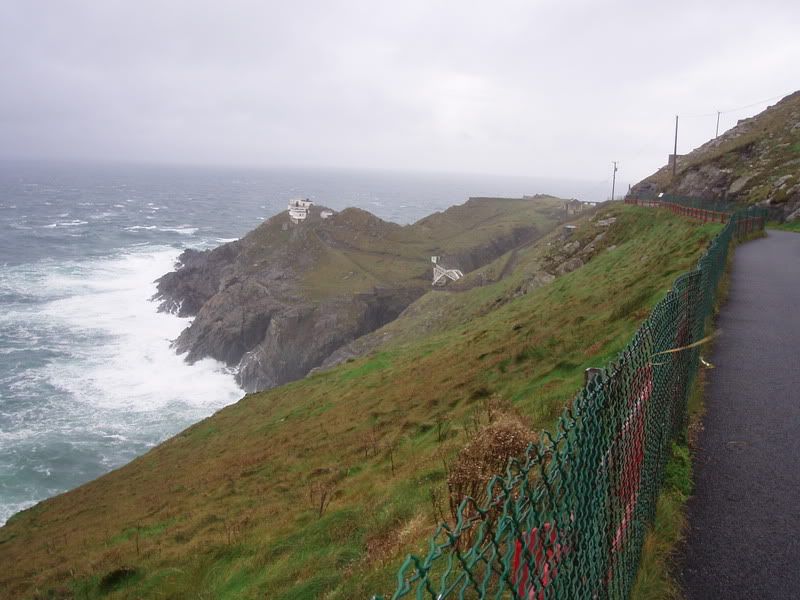 The weather on the Friday was lovely (despite the sky in the Cobh picture) but we knew bad weather was coming so we decided to head for the south-westerly most point of Ireland and get soaked by the rain and battered by the wind. Mizen Head was spectacular. It took 3 hours to drive the 75 miles or so from Blarney but was definitely worth it. Before crossing the very scary (dripping with rust, covered in scaffolding, 30m in the air) bridge we refuelled at the new visitor centre. We managed to wait just long enough for the torrential rain and so headed out and got well and truly soaked.
Sunday, despite the weatherman's predictions, was lovely. We headed south of Cork to the fishing town of Kinsale. Very pretty, very busy as Munster were playing Leicester in the Heineken Cup so the pubs were packed and the Guiness was flowing. We headed out to the Old Head of Kinsale to visit the lighthouse and see where the Lusitania sunk (brining the USA into WWI). Chugging along we suddenly came across a large wall, razor wire and a substantial sign saying 'Members and Guests only'. The entire headland had been turned into a golf course with no public access. As we got out of the car to go for a wander where we could we saw several other cars do exactly the same thing. Somehow you just don't expect a large chunk of coastline to be inaccessible even if it is a golf course. Luckily around the corner was the most wonderful little bay packed with surfers (although note old lady paddling by hitching up her skirts on the right). Could quite happily live there for the rest of my days - gorgeous. Back to Kinsale for tea at the White Lady hotel which was fabulous also.
For our last day we decided to drown our sorrows at the Old Midleton distillery - home of Jameson's whiskey - and home of the largest copper still in the world. After an interesting tour and purchase of 'ladies cut' jameson branded rugby top we declared the location a success and headed out to the coast to Ballycotton bay to say 'Farewell and see you soon' to the green and pleasant land.
Since arriving back at 12.30am Tuesday morning my fair sister has been over to visit. She let me do a mini 'Trinny and Susannah' on her in Cheltenham with £750 spent in 6 hours. Ended up totally knackered out and I had one of my 14 hour kip days to day - needless to say I didn't make it to work. Still worth it though!