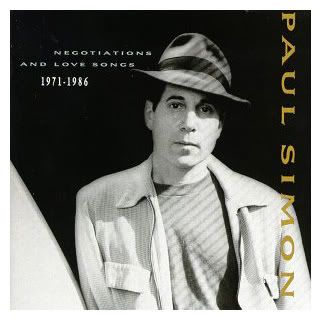 Music is one of the most important pleasures in my life. I spent a good proprtion of my teenage years lying in my bedroom singing (or crying) along to all manner of music. My tastes have broadend as I've got older - with only Jazz eluding me completely.
Yesterday one of my favourite albums arrived in the post from ebay. My Dad had this album on tape, which meant I had it on tape and he never saw it again. I think I actually wore the tape out. I don't know what reminded me of it, but suddenly I had to have it and listen to it again. There was only one copy of it on ebay, so £3.26 (including P&P) later I was the proud owner of Paul Simon: Negotiations and Love Songs 1971-1986.
Tracks:
1. Mother and child reunion
2. Me and Julio down by the school yard - makes me jig around the room
3. Something so right - chillout, slide down the sofa and so 'aaaaahhhhhhh'
4. St Judy's Comet - this has got to be my favourite lullaby
5. Loves me like a rock - a little bit of gospel-ish
6. Kodachrome - so silly, yet so right
7. Have a good time - a little bit sleazy
8. 50 ways to leave your lover - a classic
9. Still crazy after all these years - I think this should be 'our song'
10. Late in the evening
11. Slip slidin' away - my philosophy
12. Hearts and bones
13. Train in the distance
14. Rene and Georgette Magritte with their dog after the war - this one makes me cry
15. Diamonds on the souls of her shoes
16. You can call me Al - again so silly, yet so right, I should really look up what is means....
The lyrics are so insightful and beautiful, the music is spot on - taking you from tears to childish dancing and back again over the course of the compilation. I love the way when you know an album so well you can anticipate the movement of the next song before it starts - and if you here them out of their 'proper order' it just feels wrong. I can't believe I've lived without this album for this long.